Skip to Main Content
It looks like you're using Internet Explorer 11 or older. This website works best with modern browsers such as the latest versions of Chrome, Firefox, Safari, and Edge. If you continue with this browser, you may see unexpected results.
Meet your guide...
Katherine Manthe, class of 2017, is a student planning to major in nursing at Carroll University. She hopes to eventually obtain an advanced nursing practice degree as a Certified Nurse Midwife (CNM). Her mother volunteers with new moms and their babies, so she grew up around an environment with lots of babies. She has always had an interest in nursing, and can't wait to pursue this career.
Medical Miracle
Across the United States, many women suffer from uterine factor infertility (UFI). UFI entails that women have endured irreversible uterine damage or were born without a uterus. This means that they are unable to carry their own child in utero. The extremely experimental procedure allows women with UFI with a chance to carry their own child. Research done in the area of transplantation must include animal transplantation. Mice and Rats are most commonly used. The first study was completed in 1999, and the process of creating a manageable procedure took about 6 months. After a process in which the uterus was able to survive the post-op period, experiments started to obtain a pregnancy in a transplanted uterus. In 2003, the first living offspring from a transplanted uterus were born. "We then began our experiments with large animals. Approximately one year was devoted to the attempt to establish a method of auto-transplantation in pigs, where the uterus is taken from one animal and transplanted back into that same animal. This proved to be surgically extremely difficult because the vessels in the pig's uterus were incredibly small in relation to the size of its body", says research leader Professor Mats Brännström, University of Gothenburg.
Significant Discovery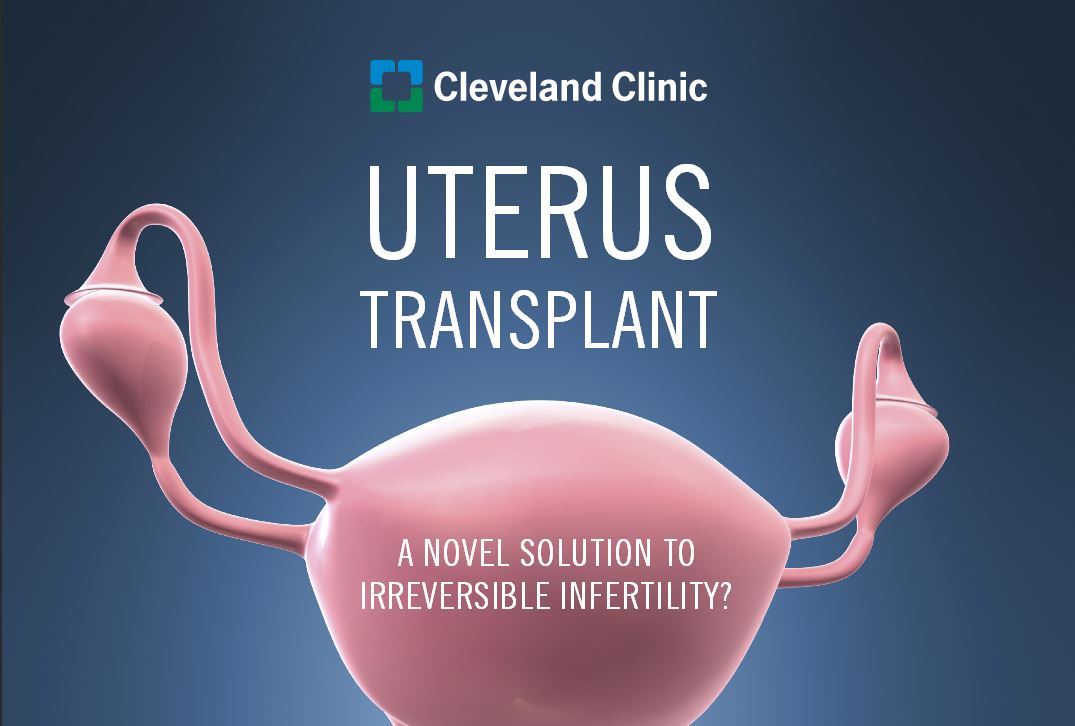 The process of a successful uterus transplant is still a process that is in the works. Complications still arise when this procedure is performed, but that is all apart of the innovation process. Internationally, there were two transplants that were unsuccessful. The major problem was organ rejection. The body did not want to accept the uterus, therefore making IVF unachievable. Extensive research was done by doctors in Sweden, in collaboration with the Cleveland Clinic. After the research was completed, a Swedish team of doctors was able to complete a uterus transplant with a mild rejection during the pregnancy. By September of 2015, 9 uterus transplants had been done, resulting in a total of 5 pregnancies and 4 successful births. In 2016, the first uterus transplant on American soil was completed by the Cleveland Clinic in Ohio. You can read more about the whole team that was involved in this process here (scroll down to the bottom of the page).
Emerging Innovations
Since this procedure has only been done once in the United States, it is still fairly new. The US research is primarily being done is association with Cleveland Clinic. The process of uterus transplant has been showing a lot of potential for treating UFI. The Cleveland Clinic is adding to a history of reproductive surgery innovations by exploring the field of uterus transplant and the possibly of it being easily accessible for US women.
Social Impact
| | | |
| --- | --- | --- |
| | Positive Effects | Negative Effects |
| Medical | can give the mother a chance to have her own child in a "natural way" | emotional effects can happen if live donor is used, there can also be post-op complications with uterus |
| Professional | learning a more complex surgery can broaden a surgeon's repertoire | surgery is complicated and is very long, messing one step up could ruin whole procedure |
| Ethical | not considered live saving procedure- so not considered necessary | illegal in many countries due to religious beliefs |
| Legal | unknown | not legal everywhere |
| Economic | unknown | expensive procedure, not very accessible yet |
In the medical field, there will always be pros and cons to every procedure done. This procedure is still up and coming and will still be in the works for many years to come. There will always be surgical complications- as there is with any surgery. If people are considering this procedure, they will have to consider all the negative and positive effects.
What do you think?
yes, I am totally in: 1 votes (50%)
yes, but I would like to know more first.: 0 votes (0%)
maybe: 0 votes (0%)
no, there is no way.: 1 votes (50%)
yes, I am totally in: 1 votes (100%)
yes, but I would like to know more first.: 0 votes (0%)
maybe: 0 votes (0%)
no, there is no way.: 0 votes (0%)
Future Directions
In my opinion, the process of uterus transplantation will always be a work in progress. There may always be a chance for organ rejection (as there is with any transplant), even with the anti-rejection drugs. I hope that one day this procedure will be able to be easily accessible for women who want to have the opportunity to carry their own children when they are not originally born with that option or undergo a highly damaging injury. Maybe one day I will be able to aid in the process of this discovery, because I am very interested helping mothers through pregnancy and assisting with the birthing process.
The Whole Process
The process of being pre-screened for a uterus transplant and under going the surgery is a lengthy and detailed process. Click here to learn more about the ¨Multi-Step Path to Parenthood¨.
Library Information and Media Center - Monona Grove High School - Monona, Wisconsin